SITASN (or Surrounded In Tacks And Sewing Needles, also referred to as Surrounded In Tacks And Sewing Needies in the earlier epsiodes in the season) is the first season of the SITASN world. It also has the doodle style debut within it. Also, this is what this wiki is based off of!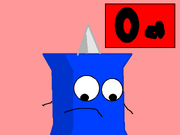 SITASN originated as an experimental idea from TheSourCitrus, as he tried to make a camp with Scratch coding. He also used to built in scratch recorder to record the videos, being the cause of the videos being around a minute long. After the video was uploaded, he ended up getting 12 people to sign up. SITASN is the origin of TSC's doodle style and has two sequels: TSCNOC and SIPAN.
Characters
Edit
Contestants
Edit
Elimination order
Edit
Etymology
Edit
SITASN's full name, Surrounded in Tacks and Sewing Needles, is a play on the phrase Coiny said in BFDIA, "I'm surrounded in Pins and Needles!"
SITASN's lack of BFDI assets use predates that of BFB.
SITASN was canceled during the development of SITASN 6a.
SITASN wasn't TheSourCitrus' first attempt at making a camp.